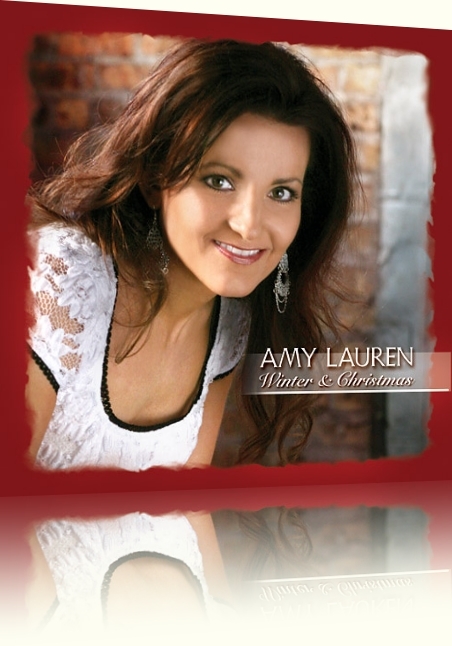 Winter & Christmas CD
(Translation from Spanish) , Reviews New Age
Winter & Christmas
is the third album of solo piano of composer and pianist Amy Lauren. A combination of traditional Christmas music and original compositions full of hope and peace, perfect to enjoy as mentioned parties. Amy offers sixteen short (eight of them, her own compositions), full of tenderness and excitement, an album that perfectly captures the holiday spirit and optimistic sentiment that pervades the pianist in these days of December.
Winter & Christmas
begins with "Ice Dance", a piece full of joy, which plunges us into the moment of the first snowfall, the moment when the children run and play in the snow. A perfect sweet and cheerful composition which perfectly captures the moment. Cheerful piece!
"The Holly And The Ivy" is an adaptation of the popular carol of the fifteenth century. A piece optimistic and jovial, which Amy brings a special excitement.
"Everything Magical" begins briskly, amazing. Giving that feeling magical moment that opens a window to discover a different landscape, beautiful and covered by a blanket of white. Beautiful!
"Eve of Winter" is a piece full of longing. The top notes give a hint of sadness, but in turn, provides an extremely beautiful. Lovely piece!
"November" begins with a ringing high notes, which seems to be the end of autumn with the fall of the outer leaves that give way to cold winter. Melancholic and reflective melody!
"Greensleeves" is a popular Christmas carol, which have made many versions, but in this case, the slow-flowing melody.  Amy has given her personal touch to the beginning and at the height of the piece varies with beautiful notes, are new winds that the artist has produced the popular Christmas carol. Beautiful!
"December Song" is tender and sweet, high notes give it a unique feeling to this topic. Performed with great emotion, it is easy to imagine the entrance of the last month of the year.
"I Saw Three Ships" is an adaptation that makes the popular Amy Carol originally from England. Both hands are on the keyboard playing a beautiful melody and cheerful. Smiling!
"Midnight Snow" is synonymous with peace, is the instant in which flakes of snow begin to fall, slow, meandering at midnight.  A nostalgic piece embraces the soul of the listener.
"Away in a Manger" is a tender carol that Amy brings a unique sweetness. Both hands flow through the keyboard playing the popular tune. Pure tenderness!
"Silent Night" begins with a progression from right to left from the highest notes, accompanied by the sound of the left hand ... New to this carol and a personal touch that brings us to the popular tune! With a continued accompaniment of chords in the low scale of the piano, right hand plays the slow song, with blanks, which give high sensitivity. Sublime!
"God Rest Ye Merry, Gentlemen", Amy makes marvelous adaptation of this Christmas carol. A unique and personal touch will bring strength and beauty to this famous composition. Possibly one of the best versions that have been made. Sublime!
"Northern Sunrise" begins with a continuous touch chords, playing the sound of bells that herald a new dawn, cold, but a beautiful blue sky and red fire. A delicate melody created by drawing the beautiful moment.
"We Three Kings" another wonderful and unique adaptation of Amy, but in this case the popular nineteenth-century carol written by the Rev. Hopkins. Wonderful version, with a symphony full of strength!
"There is Peace" is intimate, intense and with a touch sad. The melody brings peace, which makes it perfect for introversion. Perhaps one of the most personal album. Beautiful!
"Jolly Old St. Nicholas" is sweet and optimistic, a version that Amy has also been approved. The melody flows slow and tender. A perfect piece for the conclusion of this amazing work!
Winter & Christmas
is one of the best Christmas albums that have been reviewed in Reviews New Age. Amy has captured perfectly the spirit of Christmas in all subjects that make this work. All with a unique and personal touch, suitable to be heard at any time or dates. A highly recommended work!










All music written, composed, arranged, performed and recorded by Amy Lauren. Copyright © 2015, All Rights Reserved.
Unauthorized duplication or use in any manner, or sharing of PDF files, MP3s and/or downloads over the internet is a violation of copyright laws.
It is illegal to record any of this music without permission of Amy Lauren / A.L. Productions