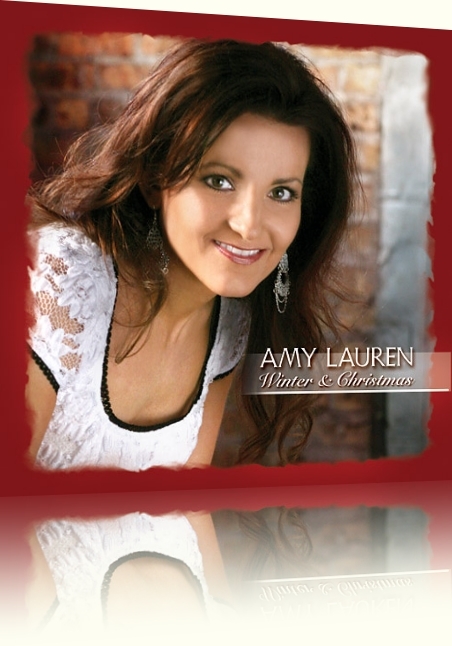 Winter & Christmas CD
Kathy Parsons, MainlyPiano.com
Winter and Christmas
is an enchanting collection of eight traditional Christmas songs and eight original pieces composed, arranged, and performed as piano solos by Amy Lauren. Classically-trained as a child, Amy Lauren's playing is delicate yet confident, and her style is expressive and heartfelt, capturing the gentle side of the Christmas spirit. Despite the soft-spoken tone of the album, this is far from ear candy. Amy Lauren obviously has a very deep attachment to the music and expresses that with a charming (and somewhat deceptive!) simplicity and grace. In a nutshell, this is one gorgeous Christmas album, and because half of the music is original, it can be savored all year long.
The CD opens with "Ice Dance," an original piece that gently entices the listener and sets the tone of the album. To me, "The Holly and The Ivy" should have a feeling of innocence and wonder, and Amy Lauren's arrangement captures that spirit. "Eve of Winter" is another beauty. Pensive and bittersweet, much of the piece is played in the upper registers of the piano, suggesting a lightness but also a sparkling chill - a great piece. "Greensleeves" is a bit slower than you usually hear it, bringing out the graceful melody to full advantage - another beauty! "I Saw Three Ships" is more playful and dance-like, skipping and twirling with joy. "Midnight Snow" perfectly paints a peaceful scene of absolute stillness and calm. Moonbeams and reflections of the stars slowly dance on the glistening snow.  Probably because it was one of the first Christmas songs I learned to sing as a child, "Away in a Manger" also signifies innocence and peace to me, and Amy Lauren's version is perfect with its simple right hand melody and flowing left hand accompaniment. I am always amazed at how many different ways there are to interpret "God Rest Ye Merry, Gentlemen" and "We Three Kings" and how most of them work. Whether you know all of the words to either song, the melodies are so powerful that words become secondary. Amy Lauren's arrangements of both songs are superlative and deeply affecting.  "Northern Sunrise" is one of the first songs that Amy ever wrote, and its honesty and passion are palpable. "There is Peace" connected Amy to the piano unlike any other piece she has written, and that depth really shows in the playing and the powerful emotions expressed. The CD ends with a happy little surprise - a sweet and tender version of "Jolly Old St. Nicholas."  Played slowly and in a classical style, this version is bound to bring a smile!
Winter and Christmas
is a wonderful new release, sure to brighten your holidays and return your spirit to calmness and peace. It can be purchased from www.amylaurenpiano.com, cdbaby.com, amazon.com, and iTunes. Very highly recommended!










All music written, composed, arranged, performed and recorded by Amy Lauren. Copyright © 2015, All Rights Reserved.
Unauthorized duplication or use in any manner, or sharing of PDF files, MP3s and/or downloads over the internet is a violation of copyright laws.
It is illegal to record any of this music without permission of Amy Lauren / A.L. Productions