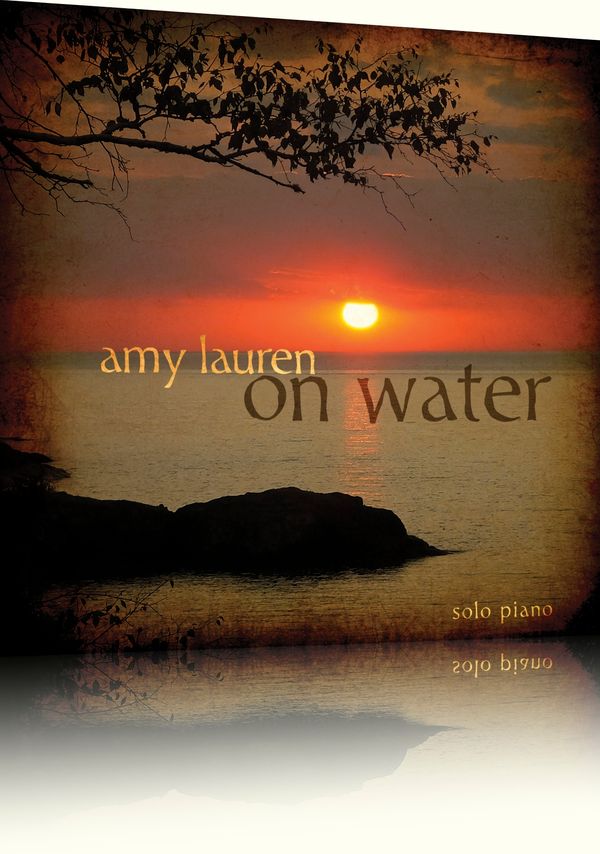 On Water CD
Michael Diamond, Music and Media Focus

The beauty of nature has served as inspiration for artists and musicians throughout time. One of these gifted souls is pianist and composer Amy Lauren, who hails from Wisconsin. As the title of her latest CD implies, the element of water is a primary theme of the album. According to Amy, it is "based on the picturesque northern shoreline of Lake Superior and 
the surrounding Great Lakes. Vineyards on Lake Michigan, waterfalls 
in the north woods and other elements of nature combine with a beautiful Native American undertone." The influence of the natural world on Amy and her music is reflected in a Native American poem that accompanies the album and can be seen at the end of this article. Verses from the poem are also present in a promo video for the album that can be found on Amy's website with nature photography and samples of music from the recording.

Although she was classically trained as a child, Amy chose to march to her own drummer and pursued a career in her personal style of solo piano music. It seems to have been a good move for her, as her debut recording, First Dance, received two national songwriting awards in 1999. Over the years Amy's albums have received numerous awards, nominations, and honors, as well as being heard worldwide on internet and broadcast radio stations and released internationally. Comparisons to artists such as George Winston, Jim Brickman, Lorrie Line, and Wayne Gratz have been favorable. I'm sure that On Water, now her sixth release, will join the previous ones as being consistently in the top of the new age music charts.
A song called "Cedar Rush" is the first track, and opens with a stately introduction before moving into a more intimate feel that rises and falls like a leaf floating on gentle currents of air. A shift in the wind is discernable, however, on the next song entitled "Gales Of Indigo," where the mood is wistful and tinged with melancholy. The piece is poignant and moving, revealing an emotional spectrum just within the first two tracks of the album. On "Native Peace," the scope of Amy's playing expands in another direction on a lovely composition that unfolds with spaciousness and serenity, yet conveying as much emotive depth as some of her more outwardly dramatic pieces. As mentioned, the northern shoreline of Lake Superior provided much of the inspiration for the album, and is paid tribute in a track called "North Shore. As rolling left hand arpeggios provide a musical foundation, Amy's right hand dances upon it with melodies that range from delicate to fervent.
In keeping with the theme of water, a song entitled "Tahquamenon," as well as one called "Tannin Falls," evoke images of the spectacular waterfalls that are the centerpiece of a State Park in the eastern Upper Peninsula of Michigan that is named for them. Notes glide gracefully, picking up speed and velocity as the piece flows along. And the flow continues, right into the next song, the title track, "On Water." Languid liquid melodies drift and swirl evoking an aquatic ambience that buoyantly carries you along in its stream. In thematic contrast to the album's water imagery, is a song called "Fire and Flint," which starts out quietly and builds as it goes, eventually settling back down, much like the evolutionary arc of a campfire. While water is a primary theme of the album, by this song near the end of the album, all the four elements, earth, air, fire, and water have made their presence felt in the music. Perhaps even the fifth element is represented in the final track called "Carry This Soul," that conveys an energy of pure spirit and whose melodies reach toward the heavens. The natural world and its influence on Amy's music is beautifully reflected in this poem she has chosen to include in the album:

"What I am I must become
What I see I must try to find
What I hear I must play music to
What I touch I must leave alone
I turn then to all reflections of myself
In trees and sacred things
That nature gives to me."


Native American – Author Unknown
All music written, composed, arranged, performed and recorded by Amy Lauren. Copyright © 2015, All Rights Reserved.
Unauthorized duplication or use in any manner, or sharing of PDF files, MP3s and/or downloads over the internet is a violation of copyright laws.
It is illegal to record any of this music without permission of Amy Lauren / A.L. Productions