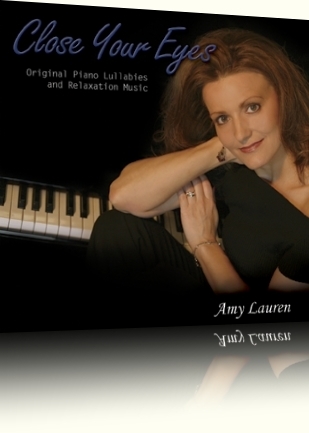 Close Your Eyes CD
(Translated from Spanish), Reviews New Age
Close Your Eyes
is the second album of solo piano by Amy Lauren. An album consisting of twenty short relaxing recorded on a Steinway grand piano. Twenty subjects perfect for relaxing after a hard day, where Amy takes us into sweet dreams with sweet lullabies, sensitive and beautiful, made in the best moments of the night at the foot of the chimney.
"Goodnight Prelude" is the preamble to what will be a great job. It is the shortest piece on the CD, sweet and tender is the perfect nanny to take a deep sleep.
"Dance of the Stars" begins with a touch of high notes and chord progressions with the left hand, playing a beautiful melody and childlike cheerful tone, as if a child's game in question. Sweet!
"Aussie's Song" is a beautiful and gentle song dedicated to her dog. The highlight of this piece has a certain resemblance to the sound of Danny Wright, visibly marking the high notes while the left hand makes chord progressions. Nice piece!
"Rock With Me" is nostalgic, perfect to dive into beautiful memories to draw landscapes or in the mind and enjoy the beauty. A tender touch Top notes bring to life a beautiful melody. A piece that invites you to dream!
"The Ocean's Lullaby", subtle strokes of chords brings strong emotion to the piece at the beginning, and between silences, is emerging a significant melody, a swing of notes played by the right hand reminiscent of the ebb and flow of waves Tues Beautiful piece!
"Begin to Dream", at which the mind gives life to a world of fantasies in the melody are repeated high notes as if jumping from one dream to be. A graceful tune perfect for the first moments of rest.
"Imagination" is the longest track of this work. A few minutes Amy gives to the imagination, a piece that comes parsimonious between fingers, as if it were an improvisation.
"Heaven's Candlelight", slow flowing, a peaceful theme suitable for times of retreat, walk and reflect. Thoughtful piece!
"A Mother's Prayer" starts strong with a coming and going of chords and notes, representing questions and thoughts.  A beautiful soliloquy, exciting and sensitive, too.
"Bed of Stars", an ideal piece for the admiration of a sky full of stars before embarking on the adventures of sleep. Sweet and delicate melody that rises in the high notes of the keyboard. Pure tenderness!
"Calm is the Night" is intimate, relaxing. Chord progressions in the bottom of the keyboard that come and go with a beautiful melody of breath, becoming a hypnotist. The silence of the night can be beautiful and captures that lonely moment Amy in this beautiful theme. Lindo!
"I'm Right Here" is a positive titer, protector, your title says it all "I'm here." It has a cheerful melody and full of hope when a mother tucks her child, made peace and quiet in the dark night. Amy continues to surprise!
"Drifting Starlight" has an affectionate tone. The right hand strums a tune catchy, cheerful and tender. Who has not ever sat down to count stars?, This is the time!
"Angels Are Sleeping" tells a story, a dream. A touch of notes continued to welcome and continuing with a simple but sweet melody. Sense, absorbed, remains in that sweet moment.
"Nighttime Falls". Each person nightfall conveys a unique feeling, can be sad, dark, sometimes scary ... But in the case of Amy, this title is not melancholy, kind, sensitive. The melody is sensitive and in some instances, a little stronger. Sublime!
"Midnight Song" is nostalgic melancholy. With a flowing tone heavy, an original melody gives way to midnight and sleep. Beautiful theme!
"Search the Stars" a repetitive melody notes are emerging as if each of the stars of heaven appeared darkened one by one.  The music you draw with your notes the night landscape, stars, moon, clouds ... Sensible piece!
"When You Sleep" is a tune suitable for contemplation, time to enjoy the beauty of a child at the moment that lives deep sleep.  A piece that puts a smile on the listener. Amazing!
"Close Your Eyes" is tender, a perfect lullaby for the moment of clothes. A touch continued low notes chords accompany a melody and breathy sensitive, delicately played by the right hand.
"Goodnight". What better title than "Good Night" to close the album. A chord progression gives an introduction to insistent tune, a swing in the accompaniment and discontinued in the high notes. A beautiful melody is the highlight of this fantastic work.
Close Your Eyes
, as its title indicates, "ORIGINAL Piano Lullabies", and are original in every way, a unique composition and suitable for the moments before sleep and relaxation. Amy has managed to convey perfectly the sense of each album title, immersing the listener in intimate moments full of peace. It is a highly recommended album!










All music written, composed, arranged, performed and recorded by Amy Lauren. Copyright © 2015, All Rights Reserved.
Unauthorized duplication or use in any manner, or sharing of PDF files, MP3s and/or downloads over the internet is a violation of copyright laws.
It is illegal to record any of this music without permission of Amy Lauren / A.L. Productions