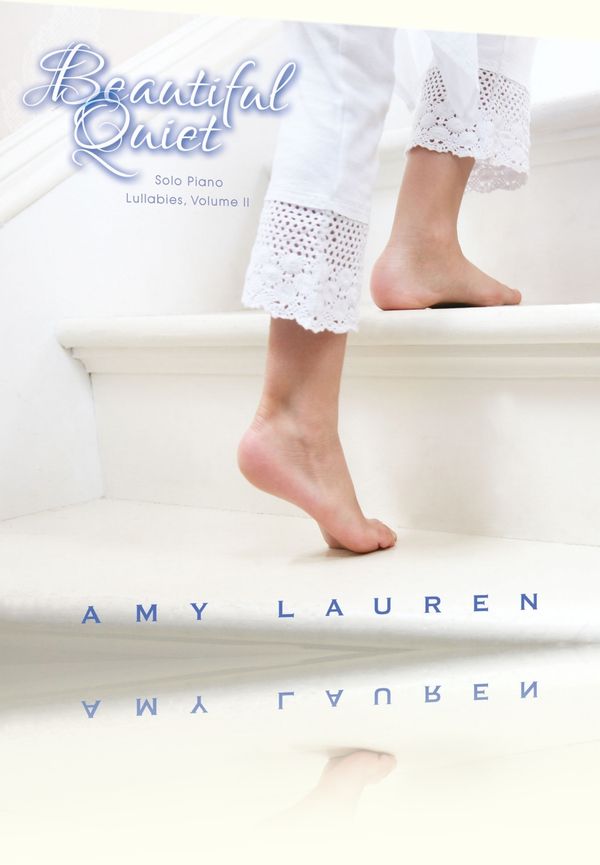 Beautiful Quiet CD

Kathy Parsons, Mainlypiano.com


Beautiful Quiet
is Amy Lauren's second solo piano album of original lullabies, following her 2003 release
Close Your Eyes
; it is also her second release in 2010. What a treat! As you would expect, the album is very
soothing and soft-spoken, but it is far from fluff music. There is plenty of substance in the fifteen pieces - I just
don't recommend trying to wake up to them! (I tried it twice and woke up when the CD player turned off rather
than when it came on both times! I think this is a good indication of how successful Amy Lauren was with her
lullaby project!) From the liner notes: "...these songs remind us to slow down and appreciate the simple things
in life. From the tiniest of feet to those well traveled, no matter how many steps we've taken, there are times when
soothing music can be our only comfort, our only peace. It's during that time, we find a Beautiful Quiet." This music
can provide a lovely but unobtrusive backdrop for a meal or an evening at home, and it also provides a haven of
tranquil melodies to get lost in while unwinding and regrouping.
Beautiful Quiet
begins with "Enchanted Dreams," an elegant bit of musical bliss. "Starfall" is slow, sweet and
dreamy. "The Lost Lullaby" is one of my favorites - slightly bittersweet but so graceful and warm. "Sapphire Song"
has some slightly discordant notes that give the piece a little bite and make it distinctive - another beauty! "Softly, Silently" gently massages the mind while telling a bedtime story. The title track is my favorite - a refuge from the noise and craziness of the outside world, it reassures and soothes as you relax and drift away on the beautiful sounds. Love it! "Sweetest Blessing" is a tender and graceful love song. I also really like "Keep This Prayer," which reminds me a little of David Nevue's simple, heartfelt melodies and flowing accompaniments. It's an uncomplicated piece, but carries a lot of emotion. The closing lullaby is "Slumber Dance," which feels like a warm, cozy dream or the lovely moments just before falling into a deep, effortless sleep. I think I'll take a nap now!
Amy Lauren is building a repertoire of wonderful solo piano music, and
Beautiful Quiet
is a welcome addition! It is available from www.amylaurenpiano.com, Amazon, iTunes, and CD Baby. Recommended!










All music written, composed, arranged, performed and recorded by Amy Lauren. Copyright © 2015, All Rights Reserved.
Unauthorized duplication or use in any manner, or sharing of PDF files, MP3s and/or downloads over the internet is a violation of copyright laws.
It is illegal to record any of this music without permission of Amy Lauren / A.L. Productions