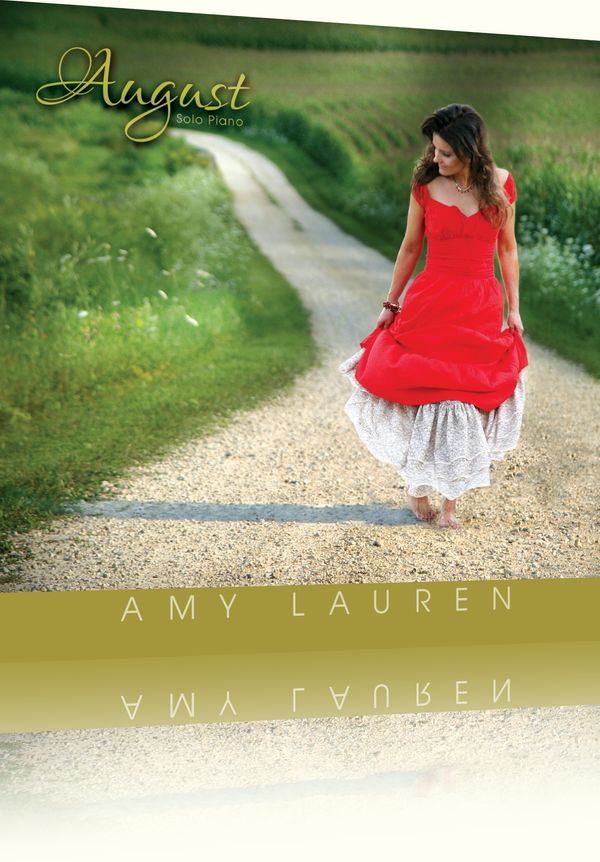 August CD
Kathy Parsons, MainlyPiano.com
August
is Amy Lauren's fourth CD and contains twelve original, beautifully melodic piano solos that convey love,
contentment, and nostalgia occasionally tinged with a feeling of dreamy melancholy. In the liner notes, Amy Lauren
says, "After completing this album it was difficult to find the words to describe what it means to me. This music is
simply a gift that I am fortunate enough to be the creator of and no more words are really needed. Fireflies, sunsets
and rain. Following the one you love and going the distance with them no matter what the twists and turns in the
road.  It all became music... it became August." This hints at how personal the music is to the composer and invites
us as listeners to experience it without too much information, allowing us to draw our own conclusions about where
the music came from and to adapt it to our own life experiences. Simple and graceful melody lines are intertwined with just enough harmonic and rhythmic complexity to keep them interesting and compelling after many listens while staying accessible to less musically-seasoned ears.
August
begins with "I'll Follow You", a tender love song that is more about maturity and commitment than starry-eyed lovers. This piece stops me in my tracks every time I hear it because it rings so true and conveys such deep emotion. Love it! I also really like "Travel This River", which has a wonderful flowing quality and a gorgeous melody that conveys a range of emotions.  "Fireflies" dances around the piano keyboard light-hearted and carefree. "Fly Away" suggests to me someone sitting at the piano late at night, expressing loneliness - or aloneness - by candlelight. This is another favorite, as is "The Rain Came Down". Rain is often used to describe hurt or tears, but although the emotions in this piece are not joyful, the piece suggests peace and renewal.  The title track is poignant and deeply-felt. Possibly the darkest of the pieces, it's incredible. "Keeper of Light" and "Resolution" swing the mood back to hopeful yet remain very introspective. "Summer's End" concludes August on a gentle and bittersweet note that fades out at the end without a final note. To be continued?
August
is a wonderful musical journey for daydreaming, relaxing, and pure listening pleasure. It is available from amylaurenpiano.com, Amazon, iTunes, and CD Baby. Recommended!










All music written, composed, arranged, performed and recorded by Amy Lauren. Copyright © 2015, All Rights Reserved.
Unauthorized duplication or use in any manner, or sharing of PDF files, MP3s and/or downloads over the internet is a violation of copyright laws.
It is illegal to record any of this music without permission of Amy Lauren / A.L. Productions