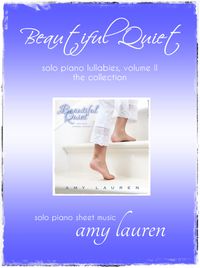 Sheet music for the ENTIRE Beautiful Quiet CD is on the way!  We have received so many requests for this one, and have  decided to release the entire album of sheet music for you.  I expect to have  it ready by the end of February, beginning of March.  
 We're doing a pre-sale of the songbook for just $16.95!!  The price will go  up to the  regular $19.95 when it is released.  If you purchase the songbook now, you'll be the first to receive a download link  for it when it's released.  Click on the songbook to purchase.
 Thanks so much for all the requests, and I hope you all enjoy playing the songs on this one!!!